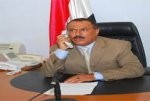 Almotamar.net Saba
- ADEN, Nov. 19 (Saba)- President Ali Abdullah Saleh launched on Monday in Aden telecommunications mobile services of Y Company with the GSM system.
President congratulated the inauguration of the Y mobile services which would contest with other telecom companies in Yemen in order to offer better services at competitive prices, giving felicitations for the Yemeni people on this event.
"We affirm that this would have a great effect in presenting better service in field of telecommunications and that these telecom companies have become very lucrative much better than oil wealth. We hope that revenues of these companies pour in the benefit of citizens." Saleh said.
He gave orders to IT and telecommunications ministry to stick to its commitments of agreements and improve terms of these agreements for any telecom company wishing to invest in Yemen as this is a tremendous wealth.
In the opening celebration, telecommunication minister affirmed that his ministry is always working to reconsider calls tariffs to cope with citizens incomes.
He considered Saleh's inauguration of the service a sign of the political leadership to push investment in Yemen forwards.
For his part, head of the General Investment Authority (GIA), Salah al-Atar, said that this important and active project will lead to a big move in sector of telecommunications in Yemen and will positively have impacts in serving users.
Executive director of Hits Unitel (Y) Imad Hamid, for his part, hailed the political, economic and investment march of Yemen which succeeded this project.
"This project initially works with 300 stations in all governorates with 400 thousand subscribers," he said.
Saba