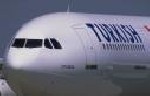 almotamar-net
- On Saturday, Turkish Airlines celebrated inauguration of the first Sana'a-Istanbul route twice weekly. A maiden flight carrying 111 passengers departed for Istanbul Sunday.
International Tourist Group Chairman Alwan Al-Shibani said the weekly direct flights will generate trade and tourism activity between the two countries. Al-Shibani asserted that Istanbul's position as a gateway to Europe will encourage tourism to Yemen. The link also will encourage more Turkish businessmen to seek investment opportunities in Yemen.
The Turkish Minister of Transport and Communication said Turkey and Yemen enjoy strong commercial relations, which the flights will help promote. He added that the flights will further stimulate cultural and tourist activity between the two countries. He noted that Turkish Airlines owns 83 planes and intends to establish 134 new routes covering most of the world.