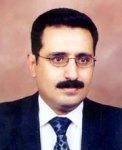 almotamar.net
- The number of Yemeni cabinet, misters who have so far delivered statements on their property to the Supreme National Anti-Corruption Authority (SNACA) has amounted to 24 ministers out of 94 government officials included by the law. Among the government officials are undersecretaries and directors general at different government institutions. Submissions of those statements began since the beginning of last October in implementation of the law requesting senior government officials to provide statements on their property which was adopted by the Yemeni parliament the mid of July 2006.
The head of the property statements at the SNACA Mohammed Hamoud al-Matari has made it clear to almotamar.net that the Minister of Electricity & Energy Dr Mustafa Bahran has presented to the SNACA his property statement on Tuesday and before him on the same day was the Minister of State for the cabinet and parliament affairs Dr Adnan al-Jifri.
This legal measure that includes the Yemeni ministers for the first time comes in implementation of the law on statement of property and articles of the president of the republic's electoral platform with regard to fighting corruption and part of the reforms aimed to improve the administrative performance and combating corruption in Yemen.
The law obliges those included to present statements on their property before their assuming of their posts so that the SNACA would be able to hold them accountable after that for any sums of money or property they have acquired during their posts in illegal ways.