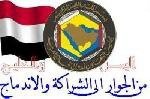 almotamar.net
- DATAMATX Ibc., specialised in information technology, organises in Dubai the 5th Gulf Cooperation Council (GCC) states Economic forum on 6-8 of next May. The forum is to be attended by a group of economic official, investors, thinkers and those possessing experience effective in the economic decisions regionally and internationally.
Chairman of the committee organising the forum Ali al-Kamali said the forum is to discuss over three days the most important recent developments of the Gulf economy and changes and challenges facing it, the Gulf-Yemeni partnership and the next Gulf economic directions under the world economic variables and the strategy of the year 2020.
Al-Kamali also pointed out that the forum would discuss mainly the way the Yemeni economy incorporation with the Gulf economy and the ways guaranteeing the help to overcome difficulties that may preclude that. It will also study scientifically all ways and means and talking about them in order to educate the economic officials, investors and politicians as well as thinkers and the experienced ones who influence the economic decisions at the Gulf level in particular and the world in general.
The forum will also shed light on the most prominent economic practices and experiments and successful commercial policies that represent a strong start for businessmen and investors to development a stable investment environment, increase of reciprocal interests and exploration of new energy alternatives that help reduce dependence on oil and the entrance of the element of industry and industrialization in the light of the 2020 strategy.
Al-Kamali, according to the Emirates news agency, added that the forum is also to discuss the current developments regarding important economic issues facing the GCC states such as the regional political developments and their impact on external investments and economic evolvement as well as how to benefit from technological advancement of nuclear energy in peaceful uses and the Yemeni-Gulf economic relations specifically, added to that is the necessity of formulating a strategy for facing challenges of 2020 and role and freedom of trade and their impact on economy of the region and available investment opportunities, privatization and accomplishments of the GCC states and the extent of their effectiveness in the new world economy.
It is to be pointed out Yemen with its environment and history possesses a huge asset of historical ruins and tourist sites as well as agricultural lands and minerals and subsequently the drawing up of comprehensive plans would help create great economic opportunities under a Gulf help and international assistance.