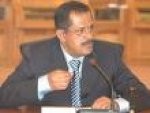 almotamar.net
- Yemen's Prime Minister Dr Ali Mohammed Mujawar announced Sunday his government intention of reviewing many of legislations as part of the group of economic, financial and administrative reforms including the law of income taxes, the law of collecting pubic [property in Yemen and executive bill and improvement of mechanisms of collecting them.
In his address Sunday to the 4th Arab Forum for Small and Medium Industries., organised by the Yemeni Ministry of Industry and Trade in cooperation with the Arab Organisation for Industrial Development and Mining, opened in Sana'a today, the PM added that his government is intent to amend the laws and regulations related to banking sector and preparing a draft law for stock exchange market. In addition the government is to conduct customs and tax reforms for the encouragement of trade and investment and facilitation of Yemen's integration with economies of the Arab Gulf.
He said his government is intending to accomplish an organisational framework for small industries within the frame of the new law of industry and development of technical and organisational capabilities of small industries project as well as simplification of measures of licenses of small industries along with adoption of the single window system.
Dr Mujawar said Yemen would allocate 30% of industrial zones areas to the small and medium industries and "we shall support the handcraft industries by encouraging cooperatives and training their cadres as well as continuation in exempting inputs of their productive activity."
With respect to industrial field the prime minister said his government focuses on developing it and pushing forward industrial development and investment, strengthening partnership with the private sector. He considered completion of executive procedures of the rest of industrial zones and issuing a law on industry and a strategy in addition to building industrial zones as among the outstanding tasks of his government in the next year.
On his part the Yemeni minister of industry and trade Yahya al-Mutawakil said the small industries in Yemen form more than 95% of the industrial installation and they employ more 63% of the workforce and control 41% of the industrial added value. He said the big industrial installations represent 2.6% out of the total industrial installations and control 59.3% of the gross added value.
The minister considered the convening of the Forum as a valuable opportunity to discuss new mechanisms for lending Arab small and medium industries and providing training and financing programmes for graduates and the youth to enable them carry out their productive activities.