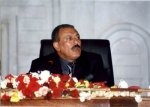 almotamar.net
- President Ali Abdullah Saleh affirmed Sunday that Martyrs Sons and Strugglers of the Yemeni Revolution Forum would always receive all care and support in recognition of the dear sacrifices their fathers had offered to the homeland and its revolution and unity.
During his receiving in Aden Sunday the founders of the Forum who informed him on the Forum goals and its present and future activities, the president said, " The homeland would never forget sacrifices of its martyrs and strugglers that by virtue of them their sacrifices and giving Yemen is now entertains freedom, democracy, unity, development, security, stability and progress. " the president affirmed that the great betting is on the generation of the revolution and unity, the clean and eructated generation that is leading the operation of development and modernisation in the homeland and to follow the road the martyr4s and strugglers have followed.
The Forum founders on their part asserted they would follow the road of the goals and principles for which their fathers had sacrificed for the homeland, its revolution, unity, achievements and for the freedom and democracy and progress. They indicated they would not allow any person or side to take advantage of the struggle of their fathers to trade or overbid with to realize opportunist gains or narrow partisan aims and not to allow offending the homeland and its stability and security, unity and social peace.