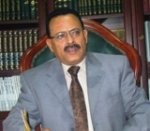 almotamar.net
- The Ministry of Expatriates Affaires on Sunday launched a website on the internet. In a press statement received y almotamar.net the ministry mentioned that it was putting the final touches of the website.
Walid Andulrazzak al-Yousufi, the supervisor of the website said in a welcoming address to visitors of the website that it is launched as a beginning for commubucartion and submitting issues and problems facing the expatriates an how to solve them.
Al-Yousufi added the sites seeks to create a partnership to be the more important factor in the operation of development through investment in all areas via the umbrella of securities or other aspects of partnership.
The site of the ministry will receive questions of the expatriates and their issues inside the homeland and outside it and the specialists in the ministry would follow up them.
The ministry of Expatriate Affairs called on the expatriates to effectively contribute with their ideas suggestions for the activation of the news site of the expatiate ministry with whatever new they have.
The website can be visited on
www.immigrants.gov.ye