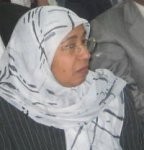 almotamar.net
- The minister of social affairs and labour Dr Amat al-Razzaq Humd said Monday her ministry has deleted 40 thousand cases not deserving cases from statements of social security along with drawing up a new mechanism depending on differentiation between the deserving through the computer.
The announcement came while the minister was on Monday reviewing measures of her ministry taken for solving the problem of Yemeni children smuggling at meeting of the Children Parliament.
The minister referred to proposed legal amendments being considered by the parliament including incrimination of smuggling children from Yemen and rising the age of the juvenile to 18 years. She also talked about formation of joint committee grouping her ministry and the ministries of interior and defence and local authorities in the border governorates.
The minister of social affairs and labour also praised the UNICEF organisation role in bringing closer the Yemeni and Saudi viewpoints on children smuggling resulted in holding many meetings of Yemeni-Saudi committees that agreed on preparing a study including statistics by a neutral expert and two representatives from each of the two countries.
It is to be mentioned that the government ha taken some treatments for the problem of children smuggling among them the building of centres for the rehabilitation of the returning children and expansion in cases of social security in the border governorates, amounting to one million cases in various governorates of the country.