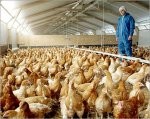 almotamar.net
- A source at the Yemeni Animal Wealth Authority revealed Thursday that the authority stopped on the Yemeni Saudi borders in the past two days three commercial shipments of Saudi chicks and prevented them from entering Yemen in precaution of being infected with bird flu disease.
The source told almotamar.net those deals were granted commercial licenses before Saudi Arabia announcement of spread of bird flu virus in its farms. The source added that the authority was still retaining the shipments in preparation for making laboratory examinations to be certain of whether they were infected or not and incase it is proved they are healthy they will be allowed to Yemen.
The source mentioned that the Animal Wealth Authority stopped since last week all licenses related to importing poultry from Saudi Arabia and the measure is still valid.
The Authority had last week instructed all laboratory centres in the Yemeni governorates and border areas to stop importing poultry from the neighbouring countries and prevent entrance of any chicken shipments from Saudi Arabia after appearance of bird flu cases in its.