Russia to help Yemen build railroads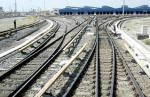 almotamar.net
- Yemen's ambassador to Moscow Mohammed Saleh al-Hilali announced Friday that Yemen plans to build a railroad that will link Yemen to Saudi Arabia and Oman with the help of Russia.
Al-Hilali called on Russian businessmen for investing in this project and affirmed that the Yemeni government would offer facilities and guarantees t foreign investors.
In an interview with the Russian Novosty news agency the Yemeni ambassador announced that the Russian-Yemeni Business Council would, under a support from the Russian Ministry of Economic Development and Trade, the Russian Foreign Ministry, Russian Chamber of Commerce and Industry would organise the Russian-Yemeni Forum in Sana'a on 8-12 of December , 2007.
The forum aims to develop relations between governmental industrial, financial and scientific circles in Yemen and Russia.
---

Saudi aggression's warplanes launches 7 raids on capital
Saudi aggression's warplanes waged seven raids against the capital Sana'a early on Sunday, an official said.
The strikes targeted Sarif area east of al-Rawda city, on the road linking the capital with neighboring province of Mareb, causing large damage to citizens' houses and farms, the official added.


Saudi aggression airstrikes kill 10 people in Ibb
Ten people were killed and nine injured in early Sunday morning Saudi aggression airstrikes on residential quarter in downtown Ibb city, an official said.
The hostile warplanes targeted residential buildings in Dar al-Sharf area of Mafrak Jibla neighborhood, he said.
The Saudi aggression also waged two raids on Bin Laden tourist complex few miles away city in central the city, said the official, adding that three other air raids hit Kah area in al-Sabrah district of Ibb province.


Saudi raid injures 16 people in Sa'ada
At least 16 people were injured on Saturday in a Saudi air raid on Magz district of Sa'ada province, a security official said.
The Saudi-led aggression targeted al-Gerbah bridge in the district, the official added.
Before two days, the Sauid warplanes targeted the bridge with two raids causing a cut off the road for some areas.


Saudi warplanes launches 12 raids on Radaa
Saudi aggression warplanes waged 12 air raids on
Radaa city and surroundings regions of Baidha province late on Friday ,a military official said.
The raids destroyed communication grid in Ihraam mount in the city.
The official added the fighter jets continued intensely flying over the sky of the city and broke the sound barrier.