Russia to help Yemen build railroads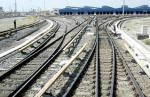 almotamar.net
- Yemen's ambassador to Moscow Mohammed Saleh al-Hilali announced Friday that Yemen plans to build a railroad that will link Yemen to Saudi Arabia and Oman with the help of Russia.
Al-Hilali called on Russian businessmen for investing in this project and affirmed that the Yemeni government would offer facilities and guarantees t foreign investors.
In an interview with the Russian Novosty news agency the Yemeni ambassador announced that the Russian-Yemeni Business Council would, under a support from the Russian Ministry of Economic Development and Trade, the Russian Foreign Ministry, Russian Chamber of Commerce and Industry would organise the Russian-Yemeni Forum in Sana'a on 8-12 of December , 2007.
The forum aims to develop relations between governmental industrial, financial and scientific circles in Yemen and Russia.
---

Parliament debates National Salvation Government's new program
On Wednesday, Parliament took up debate on the new National Salvation Government's program ahead of a confidence vote expected to be very soon.
The session led by parliament speaker Yahya al-Raiee with the attendance of the parliament members and members of the new cabinet, including prime minister Abdulaziz bin Habtour.
The program was presented by bin Habtour and his cabinet


Saudi aggression launch 24 air strikes on Saada, dropping cluster bombs
Saudi aggression warplanes launched 24 air strikes on several areas of Bakim district in Saada province over the past hours, dropping in some raids cluster bombs, a security official said on Monday.
The official said the strikes targeted Menabih, Thaban, Al Maghram and Al Zamah areas of the border district, killing a mother and her two daughters, as


6 Pakistani sailors killed in Saudi airstrike off Mokha, others still missing
Six Pakistani sailors were killed overnight when American-Saudi aggression fighter jets hit directly their boat off the coast of Mokha in Taiz province, an official said on Monday.
The official said the boat was carrying 12 Pakistani nationals fishing on the Red Sea when it was air attacked, killing six Pakistani fishermen while the others were still missing.