Russia to help Yemen build railroads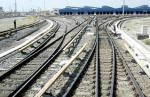 almotamar.net
- Yemen's ambassador to Moscow Mohammed Saleh al-Hilali announced Friday that Yemen plans to build a railroad that will link Yemen to Saudi Arabia and Oman with the help of Russia.
Al-Hilali called on Russian businessmen for investing in this project and affirmed that the Yemeni government would offer facilities and guarantees t foreign investors.
In an interview with the Russian Novosty news agency the Yemeni ambassador announced that the Russian-Yemeni Business Council would, under a support from the Russian Ministry of Economic Development and Trade, the Russian Foreign Ministry, Russian Chamber of Commerce and Industry would organise the Russian-Yemeni Forum in Sana'a on 8-12 of December , 2007.
The forum aims to develop relations between governmental industrial, financial and scientific circles in Yemen and Russia.
---

President visits Arhab, offers condolences to families of funeral house
President of the Supreme Political Council Saleh al-Sammad visited on Thursday Arhab district in Sana'a governorate, offering condolences to victims of the massacre committed by Saudi criminal aggression warplanes on a the house in the district.
Saudi aggression warplanes pounded on Wednesday afternoon a funeral house in Arhab district of Sana'a province, killing eight women, including


Saudi warplanes kills three civilians in Sa'ada
Three citizens were killed in a Saudi airstrike in Baqam district of Sa'ada province overnight, a local official said on Tuesday.
The Saudi fighter jets struck their car in al-Demnah area, wounding four other people.
The airstrike hit Al Qarrad area, causing heavy damage to citizens' properties and farms.
Meanwhile, Saudi aggression intensively shelled Razah district of the same province, the official added.


Two citizens killed in Saudi airstrikes on Hodaida
Two people were killed in Saudi airstrikes on the telecommunications corporation office in Hodaida province overnight, an official said on Tuesday.
At least six people were wounded in the strikes that hit the office twice. The building was damaged seriously and several cars were crashed, the official added.


Saudi warplanes target Yemeni civilians in Mokha: UN Human Rights
Extremely worrying reports suggest that civilians and civilian objects have been targeted, in violation of international humanitarian law and international human rights law, over the past two weeks, in the southwestern port of Al Mokha in Taiz Governorate in Yemen, the United Nations human rights agency warned.
While the intense fighting – both ground fighting and airstrikes – made it impossible for UN Human Rights Office field monitors to access the area and


Fisherman killed in Saudi aggression airstrikes on Salif port
Saudi aggression warplanes launched an airstrike on al-Salif port off the Red sea in Hodaida province, killing one fisher man, an official said on Monday.
The Saudi aggression warplanes also launched five airstrikes on al-Dohaimh Island of Hodaida province, causing serious damage to fishermens' boats, the official added.