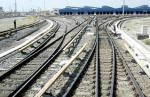 almotamar.net
- Yemen's ambassador to Moscow Mohammed Saleh al-Hilali announced Friday that Yemen plans to build a railroad that will link Yemen to Saudi Arabia and Oman with the help of Russia.
Al-Hilali called on Russian businessmen for investing in this project and affirmed that the Yemeni government would offer facilities and guarantees t foreign investors.
In an interview with the Russian Novosty news agency the Yemeni ambassador announced that the Russian-Yemeni Business Council would, under a support from the Russian Ministry of Economic Development and Trade, the Russian Foreign Ministry, Russian Chamber of Commerce and Industry would organise the Russian-Yemeni Forum in Sana'a on 8-12 of December , 2007.
The forum aims to develop relations between governmental industrial, financial and scientific circles in Yemen and Russia.