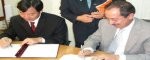 almotamar.net
- For agreements and documents of cooperation between the Republic of Yemen and People's Republic of China were signed Wednesday at the Yemeni Ministry of Planning and International Cooperation.
The four agreements, signed for the Yemeni side by Deputy Premier for Economic Affairs, Minister of Planning and International Cooperation Abdulkarim Ismael al-Arhabi and for the Chinese side by Assistant Foreign Minister, in charge of West Asia and Africa and the Chinese Ambassador to Yemen, provide that the Chinese government would offer financing grant of 20 million yuans, an easy loan of 40 million yuans for funding implementation of expansion construction of Bajil cement plant in addition to the Chinese government sending a specialised team to study and draw up designs for building a hospital in Sana'a.
The Yemeni and the Chinese sides also signed a financing agreement with the Chinese Bank of Import-Export according to which the bank offers an easy loan of 40 million yuans for the implementation of modernizing expansions in Al-Barah Cement Factory.
After signing the agreements al-Arhabi affirmed Yemen's keenness on strengthening and developing the existing cooperation between the two countries to include further areas. He pointed out that the latest visit of President Ali Abdullah Saleh to China contributed to pushing forward the two countries bilateral cooperation.
On his part the Chinese official expressed appreciation of the Chinese government for keenness of the Yemeni leadership and government on developing and enhancing elations of cooperation with China, affirming keenness of the Chinese government on developing and expanding areas of cooperation between the two counters.
On the other hand an agreement of the funding grant offered by the World Bank was signed Wednesday with the WB for completing the implementation of the project of waters and
sewage in the rural areas in Yemen.
According to the agreement the WB is to offer a $20 million grant as an additional sum to the loan allocated for building the water and sewage project in the rural areas amounting to $30 million.
The agreement was signed by the Yemeni minister of planning and international cooperation al-Arhabi and for the WB by Andrew Mike Akha.