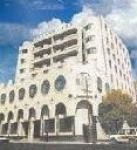 almotamar.net
- Investment Authority signed Saturday an agreement on establishing an office of Health and Population Ministry at the Investment Authority in order to facilitate investment in health sector in implementation of the single window system for investment in Yemen.
President of Investment Authority Salah al-Attar stressed the necessity of establishing a network providing all-out information on investment in health area between the ministry and the authority. He emphasised the importance of investment in health fields to improve and develop health services.
On his part the Minister of Health Abdulkarim Rasie considered establishment of an office at the Investment Authority would encourage investment in health sector and build and supply medical institutions in line with the plan prepared by the ministry.
The Health Minister stressed the necessity of taking legal measures against violators in private health sector, including hospitals and health centres as well as clinics. He said his ministry gave a grace period to those health institutions to arrange their positions before sending inspection teams and to close all violating institutions or those that did not meet the legal conditions.