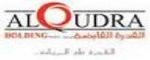 almotamar.net
- The executive manager of the United Arab Emirates Al-Qudra Holding Company Ahmed Saad announced Tuesday the company's intention to build an industrial city for serving oil companies working in the Yemeni governorate of Hadramout.
The announcement came at Saad meeting in Hadramout today with its governor Taha Abdullah Hajir. Al-Qudra company official informed the governor of Hadramout on the company's multi-purpose investment activity, in trade, industry and real estate in the UAE and a number of Arab countries including Yemen by building the project of Sana'a Towers and the Tourist Residential city.
Saad pointed out that his visit and the accompanying delegation to Hadramout was in response to invitation by Hadramout chamber of commerce and industry to see areas of investment in the governorate as part of the chamber's commercial preparations for the conference on estate and tourist investment to be held in Mukalla next March.
The governor of Hadramout reviewed the promising areas of investment in the governorate in fish, agriculture, minerals, housing, tourism, industry and transport and others.
Governor Hajir also pointed out the care and facilities provided by the law of investment that gives many privileges to investors, calling the attention to main investment strategic projects under construction, among them the projects of cement, iron and stones used in construction in addition to others.