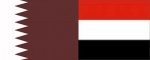 almotamar.net
- The Republic of Yemen and Qatar have agreed Wednesday on allocation of $ 300 million, the remaining amount of the Qatari grant pledged for Yemen for development projects of priority in the investment programme of the five-year plan 2006-2010.
Deputy Premier, the Minister of Planning and International Cooperation Abdulkarim al-Arhabi and with him the Minister of Finance Nouman al-Suhaibi discussed in a meeting in Doha with the Qatari Finance Minister Yusuf Hussein Kamal the level of progress in implementation of development projects financed by the state of Qatar.
The meeting discussed also future bilateral economic and investment cooperation and means of benefiting from the Qatari experiment in administration and investment.
It is to be recalled that Qatar gave a grant to Yemen at London conference of 2006 amounting to $ half billion.
On the other hand Yemen's Higher Education and Scientific Research Dr Saleh Ali Basura discussed in Doha Wednesday with President of Qatar University Dr Sheikha al-Masnad areas of scientific, academic and research cooperation between Yemeni universities and the University of Qatar.