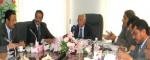 almotamar.net
- The Higher Committee for Tenders approved in its meeting on Sunday, chaired by its Head Mohammed Ahmed al-Junaid, tenders for seven development and services projects at a total cost of more than YR7 billion with government and foreign financing.
The tenders were distributed on a number of projects financed by the Arab Fund and the Yemeni government, among them a project of Taweela-Laaeh road, Mahweet governorate, the road project of Jabal Murad-Marib, road of Majlin-Al-Soud-Dhalie-Banijaish, the road of Al Soud- Hajarah-Bani Taliq in Amran governorate. The tenders also included building other roads in the governorates of Lahj and Mahweet.
According to Saba news agency the committee approved building and paving a 9km street in Taiz, a project of residential buildings for limited income people in Hudeidah governorate, provided that all the projects are to be implemented through the Ministry of Public Works and Roads.