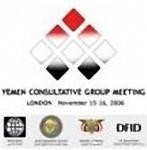 almotamar.net
- The second consultative meeting begins in Sana'a Monday between the Republic of Yemen and the Gulf and international partners and attended by representatives of the Gulf Cooperation Council (GCC) states, the donor countries and the World Bank,
The meeting is scheduled to discuss the level of implementing pledges made at the London donor conference of 2006 and what successes the financial allocations pledges have achieved of things and transforming them to development projects, he implementation of which already began and the process of completing the allocation of what remained of financial pledges for the projects whose documents are finalized.
The partners of development and Yemen are to review the progress of projects and programmes implementation, the plans the Yemeni government adopted in addition to its viewpoint regarding future allocation for development programmes during the years 2011-2015.
The GCC states are considered as donor of more than 70% of the works allocated to infrastructure projects.
The Yemeni and the Saudi sides have agreed on Sunday on the speed of completing procedures of allocating what remained of the Saudi grant in preparation for signing the agreements related to the remaining allocations.
The agreement provided sending a Yemeni technical team to the headquarters of the Saudi Fund for Development in Riyadh in the second half of this month to complete arrangements concerning the signing of agreements on allocations pertaining to support projects of the Social Fund for Development the cost of which amounts to $100 million, funding the project of rural roads for $50 million and the public works project for $75 million, which will raise the volume of allocations that have been signed of agreements to $460 million.