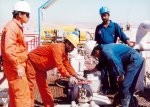 Google Forbes
- LONDON (Thomson Financial) - Soco International PLC said it has agreed to sell its operations in Yemen to China's Sinochem Petroleum Ltd for 465 mln usd in cash.
The agreement, once approved by shareholders and regulators, will allow Sinochem to take over Soco's wholly owned unit Soco Yemen Pty Ltd, which holds the company's interest in the East Shabwa oil field.
Soco Yemen holds an indirect interest of 16.8 pct in the East Shabwa project through its 58.7 pct stake in Comeco Petroleum Inc. Comeco, in turn, has a 28.6 pct interest in the East Shabwa field, operated by France's Total.
In 2006, Soco Yemen had revenues of 76 mln usd, pretax profit of 55 mln usd and gross assets of 65 mln usd. Its net proven and probable reserves were around 18.7 mln barrels and 29.6 mln barrels, respectively.
Soco Yemen's share in the production of East Shabwa was 6,766 barrels a day in 2006 and 6,341 barrels in the first half of 2007.
The transaction is subject to the approval of Soco's shareholders and regulators, including the National Development and Reform Commission of China. Sinochem has the right to terminate the deal on or before March 28 should it fail to secure all the approvals it needs. Should it decide to end the deal, Sinochem will have to pay Soco a break-up fee of 3 mln usd.
'The disposal will enable Soco to generate greater long-term value by re-investing the proceeds in the development of its core assets, particularly in Vietnam,' said Ed Story, Soco's chief executive.