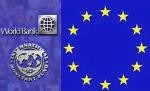 Almotamar.net, Saba
- Ministry of Planning and International Cooperation signed on Wednesday an agreement providing an additional loan from World Bank (WB) to complete the third phase of the Public Works Project amounted at $ 25 million.
The agreement, which was signed by Deputy Premier for Economic Affairs Minister of Planning and International Cooperation Abdul-Karim al-Arhabi and WB team leader Samueil Moterjei, also includes establishing projects in areas of education, health, vocational training, water and rural roads, in addition to developing local communities and construction sector to create new job opportunities in all governorates.
On the other hand, the European Commission's representative in Yemen Patricia Lambert confirmed on Wednesday the EC's intention to raise volume of its support it provides to Yemen, indicating that this decision came after President Ali Abdullah Saleh's visit to EC's headquarters in Brussels.
During a meeting with Minister of Planning and International Cooperation Abdul-Karim al-Arhabi, the EC's representative discussed results of Saleh's visit to Brussels and the European increased support to Yemen as a major result of the visit.
The two parts also discussed mechanisms of implementing commitments included in Yemeni regional plan for years 2007-2011 worth € 60 million and the additional 20 million added by the EC last year as well as preparations concerning holding meetings of Yemeni-European scheduled to be held next June.
Al-Arhabi praised keenness of EC in supporting developments in Yemen, confirming the importance of coordinating mutual efforts for this purpose.
Earlier, EC announced last June increasing its development aid to Yemen to € 81 million for years 2007-2011 for supporting reforms and helping government's efforts in combating poverty.
Saba