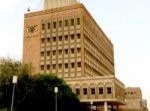 almotamar.net
- Deputy Governor of the Central Bank of Yemen (CBY) for monitoring on banks Mohammed al-Laaibi said Thursday that the CBY received in 2007 ten applications for establishing new banks in Yemen and an agreement in principle was granted to one application only. He added that the remainder applications are still under consideration. Meanwhile he said that 27 branches of banks working in Yemen were opened in Yemen governorates during the last year.
On the other hand the Governor of the Central Bank Ahmed Abdulrahman al-Samawi called on Thursday on the banks working in Yemen that are not able to raise their capitals to merge so that to be able to compete and survive under the globalization and openness and due to Yemen's endeavours to join the World Trade Organisation.
In a meeting in Sana'a on monetary and banking developments during the last year al-Samawi said the budget of banks in Yemen rose in the last year to YR 2 trillion with an increase of 264 billion and 800 million compared to 2006, at a growth rate of 26.3% and the deposits rose from YR 900 billion to one trillion and 53 billion for the same period.
The Central Bank governor said the national banks captured around 74% of the total banking activity while the Arab and foreign banks got 26% of the activity. Al-Samawi also reviewed plans of the Central Bank for developing the efficiency of the banking apparatus performance through a group of measures focusing on encouraging merging of banks, including strengthening of the banking apparatus and expansion of its activities.