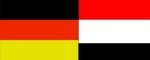 Almotamar.net
- Yemen and Germany signed in the German capital Berlin Thursday endorsement documents of an agreement on encouraging and protecting investment between the two countries. The documents were signed for the Yemeni side by the ambassador to Germany Mohammed Lutuf al-Eryany and for the German side by its Minister of state for Foreign Affairs and the signing ceremony were attended by the Yemeni Foreign Minister Dr Abu Bakr al-Qirbi.
Meanwhile, Yemeni German talks were held in Berlin Thursday between the Yemeni foreign minister Dr Abu bake al-Qirbi and the German minister of state for foreign affairs dealt with relations between the two countries and means of enhancing and developing them in addition to diplomatic cooperation.
The talks also dealt with a group of regional and international issues especially the situations in Iraq, palatine, Lebanon and developments in Somalia.