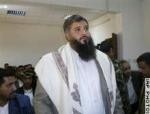 Almotamar.net
- The Criminal Prosecution in Yemen has Sunday released the defendant Jabr al-Banaa after retaining him at the Prosecution Chief Office to bring a warranty of attending the court's sessions. The measure came after the defendant presented an appeals petition to the prosecution. Al-Banaa release took lace after he presented guarantee for his attending of the court sittings.
In the court sitting, chaired by Judge Mohammed al-Hakimi on Sunday for trying of 36 defendants accused of forming an armed gang for attacking oil installations in Marib, Aboud al-Wahishi, the representative for inheritors of the victim working in guarding the oil installation the soldier Saleh Mohammed al-Makhzumi, presented a suit of personal right but the lawyer Faez al-Hajouri rebutted of not accepting the law suit of the family before the appeals for it was not presented at the First Instance Court.
The court asked the defendants who have appealed the primary sentence about their appeal petitions, some of them presented them through their lawyers and other some asked for postponement to the next sitting.
The court then decided the postponement until the session of Sunday on 23 August 2008 and demanded some of the defendants to reply to the prosecution appeal. The court also decided to address the Lawyers Union to delegate lawyers to defend some of the defendants and any of other defendants who want and to allow the lawyers to meet the defendants after the session and also to visit them in prison.