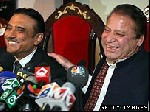 Almotamar.net
- The leaders of the two parties that won Pakistan's elections have signed an agreement to form a coalition government, reports say.
Asif Ali Zardari, widower of ex-premier Benazir Bhutto, and former PM Nawaz Sharif were meeting at Mr Sharif's residence in the resort of Murree.
February's parliamentary elections delivered a crushing defeat to parties loyal to President Pervez Musharraf.
Mr Musharraf has urged the incoming government to leave politics aside.
The coalition deal will bring together the Pakistan People's Party, which was led by Benazir Bhutto until her assassination, and the PML(N) party of Mr Sharif.
While Mr Sharif's party had vowed to support the PPP, Mr Sharif had not previously confirmed it would join a coalition government.
"It was also agreed that the PML(N) shall be part of the federal cabinet," he told a news conference after talks with Mr Zardari, Reuters news agency reported.
Mr Sharif has consistently called for the president to step down in the wake of the elections, which were regarded as a key step in Pakistan's transition from military to civilian rule.