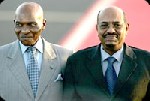 Almotamar.net, Google News
- DAKAR (AFP) — The presidents of Chad and Sudan on Thursday held a meeting in the presence of UN Secretary General Ban Ki-moon in a bid to seal a peace accord, sources close to mediators said. Before the meeting between presidents Omar al-Beshir of Sudan and Idriss Deby of Chad, Sudan's deputy foreign minister described as "complete nonsense" accusations by Chad that a rebel force based inside Sudan had crossed the border to launch an offensive.
Beshir failed to turn up for a previous peace meeting organised by Senegal's President Abdoulaye Wade in Dakar on Wednesday night. Wade hopes the two rivals, who accuse each other of plotting against their governments, will sign a peace deal.
Wade said Beshir had missed Wednesday's meeting because of a headache.
The latest attempt to reconcile the two was held in a break during the first day of the Organisation of the Islamic Conference summit in Dakar.
The Chad government earlier accused Sudan of letting heavily armed Chad rebels cross the border. But this has been denied by Chadian rebels and the EU peacekeeping force in Chad said it had seen no sign of new military movements.
Sudan's deputy foreign minister Al-Sammani al-Sheikh al-Wassila told reporters: "I can assure you this is complete nonsense.
"We have closed our borders completely," he added. "We have no opposition troops inside Sudan. We refuse any soldier or fighter to enter Sudan."
According to the Sudanese minister, "There is an internal problem inside Chad and that's what the Chad government should seriously think about."