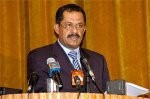 Almotamar.net
- The Prime Minister Dr Ali Mohammed Mujawar affirmed Wednesday that Yemen welcomes all investors, especially the Gulf investors, in all of its governorates, saying "It is an important occasion to meet at the Tourist and Estate Investment Conference in Hadramout governorate to consider areas of tourist and estate investment fields due to their importance at the present economy."
At the opening of the conference in Hadramout on Wednesday the premier said around one year before Sana'a hosted a conference on exploration of investment opportunities and the results of which were ten in attraction of investments in many areas in Sana'a, Aden, Hudeida with ten strategic projects by Qatari, Emirates, Saudi, egyptian, and Gulf companies at a cost amounted to more than $2.5 billion.
The Prime Minister also expressed his great confidence that the present conference would form a big tributary for alluring more tourist and real estate investments to governorates of Hadramout, Shabwa, Al-Mahara, Haja and Ibb as they are provinces possessing constituents of tourist and investment attraction.
Dr Mujawar pointed out the essential reforms the government has carried out in implementation of the electoral platform of the president of the republic and those reforms focus on achievement of sustainable development, enhancement of local councils powers and consolidation of investment opportunities between Yemen and the Gulf Cooperation (GCC) states. He added that the government works hard to realise economic integration with in the manner leading to Yemen's joining of the GCC through implementation of recommendations of the results of the donor conference held in London in late of 2006.