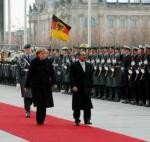 Almotamar.net
- The German embassy in Sana'a on Monday announced a beginning of government consultations between Yemen and Germany to be held in Sana'a on 6-9 next April to discuss future of development cooperation of the two countries.
In a press statement a copy of which obtained by almotamar.net, the German embassy said the consultations come for preparation for government talks expected to be held in Bonn in Spring in 2009 and during which there would be decision of the volume of Germany's assistance to Yemen for the year 2009-2010.
The statement added that the consultations come a short time after the visit to Germany by President Ali Abdullah Saleh at the end of last month. The visit had confirmed the distinguished level of the Yemeni-German relations. The German support for Yemen focuses on sectors of waters, education, sustainable development, health, the good governance and in the future it would include the technical education and vocational training.
On the other hand director general of international cooperation at the ministry of planning and development Nabil Shaiban said a British trade delegation is currently visiting Yemen to be acquainted with investment opportunities, clarifying that the delegation is the first one of its kind since 1998 and represents different British companies.
Mr Shaiban pointed out that here has been a meeting on Monday with the delegation and both sides reviewed economic and development situations and opportunities of investment in promising economic sectors, among them the sectors of industry, tourism, fish and waste management.