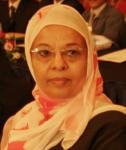 Almotamar.net
- The Woman Development Affairs Sector at the Ministry of Local Administration is currently carrying out a plan of field visits to Yemeni governorates with the aim of coming out with a unified plan on the woman development in governorates.
Local Administration Undersecretary for the Woman Development Affairs Sector Khadija Radman said Thursday the field visit comes in the frame of explaining the tasks of the woman sector and coordination between the sector and executive offices in the governorates as well as with governmental and non-governmental organisations concerning development of the woman and finding certain mechanism for cooperation in the area of the woman development in addition to coming out with a unified plan for her development in those governorates.
Ms Radman added there will be coordination with organisations in the targeted governorates so that to direct support to all of their districts.
She said there will be woman empowerment in those governorates in planning, drawing up programmes and budgets and activating them on the ground as well as how to communicate with donor parties.
Field visits by the sector of the woman development have been started with visiting Aden, Lahj, Hadramout and Socotra Archipelago governorates. In the next two weeks the visits will take place in governorates of Hudeida, Taiz, Ibb, Amran, Sana'a, Mahweet, Haja, Abyan, Shabwa and Marib.
It is to be pointed out that there are government efforts foe the woman empowerment and expansion of her participation in the development, social, political and economic process in order to translate what the President Election platform with regard to the woman development and expansion of her participation in development.