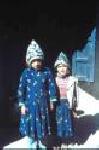 almotamar-net
- Yemen was very famous for its textile ,fabrics and drapery from the ancient ages. Yemenis were pioneers in this field and their texture stuffs had gained a wide fame for the best quality characterized by when Yemen used to provide the inhabitants of the
Arabian Peninsula with their needs of Clothes.
Yemen has got a large variety of traditional clothes where each region has its own customs. As fabrics determined by the needs of the people that based on the climate conditions, the diverse geographical features of Yemen had created various forms of clothes which had been made to fit every area.
Thereupon, the old-fashion uniforms in the mountainous regions, as it is in Sana'a , Dhamar and Sa'ada , where the cool weather is dominant, defer from those types in the coastal regions such as Hodeidah, Hudramout and Aden, where it is too hot , and in the areas where it is often moderate, like Taiz and Ibb there is another kind of customs.
Traditional clothes in Yemen also controlled by the occasion where they should be worn and the available raw materials which they are made of. These factors actually had given rise to designing multifarious shapes of old-fashion fabrics which Yemenis had invented them throughout their long history and kept up holding on them as one of the national images of Yemeni character and symbol of its identity.
Old-Fashion customs of Yemeni woman used to be worn with traditional jewelry and harmony between the two is a pre-requisite . Hence, traditional uniform of women in Yemen characterized by wearing a sort of jewelry that must be in fit with the clothes. This is eventually a distinctive feature of the Yemeni female habits