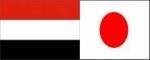 Almotamar.net
- A workshop on investment and trade between Yemen and Japan is to open in Sana'a on Sunday. The workshop is organised by the Supreme National Anti-Corruption Authority (SNACA) in cooperation with Yemen's embassy in Japan and the Japanese embassy in Yemen ion addition to a number of ministries and sides concerned with investment. The workshop is to be held on 13-14 April and there will be 30 Japanese companies taking part in the workshop.
The workshop aims at giving information of investment opportunities in Yemen to Japans investors in addition to making aware of the privileges, facilities and exempts Yemen offers to investors.
Information Director General at the SNACA Ishrah Abdullah al-Qarshi told almotamar.net that the workshop will discuss a number of working papers presented by a number of ministries and parties concerned with investment in addition to presenting investment opportunities in a number of sectors.
She clarified that on sidelines of the workshop a meeting will be held between Japanese and Yemeni businessmen to discuss the possibility of establishing joint projects.