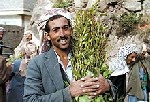 Al-motamar.net
- The government's next five-year plan, extending from 2006-2010, is set to create alternatives to the agriculture and consumption of Qat, a mildly narcotic shrub, as it is detrimental economically and from a health perspective, an official source mentioned.
According to the source, the government's plan aims to limit and minimize the Qat-growing area by encouraging cultivation of highly economic alternative crops and providing farmers with facilitations.
Being discussed currently at the Parliament before approval, the draft plan estimates the people's expenditure on Qat consumption at 250 billion riyals annually.
The draft plan points out that the money spent on buying Qat counts for 26-30% of the family's income, holding the second position after food. This represents a substantial burden on limited-income and poor families' budget. The plan indicates that Qat causes the loss of about 20 million working hours per day.
Studies reveal that 30-40% of the Yemeni population have their economic activity and livelihoods related to the cultivation, production, transportation, distribution and marketing of Qat.