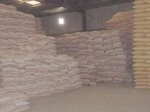 Almotamar.net
- Advisor to Yemen's Minister of Trade & Industry Dr Mohammed al-Himyari said Thursday that Yemen is presently holding negotiations with Australian officials aimed at breaking the monopoly of importing wheat and food stuffs from Australia to Yemen on certain merchants and to open competition to all Yemeni merchants whom desire to import.
In a statement to almotamar.net advisor al-Himyari said the Minister of Trade and Industry has a few days ago met the Australian non-resident ambassador to Yemen and discussed with him a mechanism on Yemen's importation of wheat and main food stuffs and it was agreed to raise quantities of importation and to open Australian markets to all merchants who desire to import to Yemen.
Al-Himyari added that it is decided that a delegation headed by the Minister of Trade Yahya al-Mutawakil to visit Australia in the mid of next month to discuss with Australian officials and to agree on the quantities of wheat and food stuffs required for importation by Yemen.
Al-Himyari added that this measure comes as part of the Yemeni government efforts for expanding the process of goods flow into Yemen and diversification of importation sources so that to face rise in prices of grains and food stuffs in the markets.