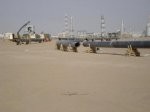 Almotamar.net
- The Yemeni Company for Natural Liquefied Gas LNG received Tuesday two chartered ships out of four Yemen is to hire fro the Yemeni company for natural gas throughout the work period of the project.
The two ships were handed over in a ceremony attended by Oil and Minerals Undersecretary Abdulmalik Alama and with him a government delegation in addition to a delegation representing the Yemeni Company for Liquefied Natural Gas in South Korea.
The two ships will carry liquefied gas from Yemen to TOTAL Company for gas and energy, one of the companies buying gas that will be produced by the project on the long-run.