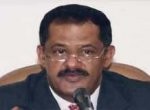 Almotamar.net, Saba
- ROME, June 03 (Saba) - Prime Minister Ali Mujawar said on Tuesday that climate change and Biofuel increase suffering of poor peoples worldwide.
Addressing the United Nations Food Summit in Rome, Mujawar pointed out to the new challenges facing food production such as raise in oil price which increases fee of transpiration and production for foods.
He warned of danger of growing use of agricultural crops as fuel for engines as that threatens food security in the world.
Mujawar affirmed importance of the international cooperation to support right of human beings to get food, pointing out to the role of Food and Agricultural Organization (FAO) to support agricultural development in the world and increase assistance for developing and less developed countries in field of agriculture.
He made it clear that the raise in food price in the world since mid of 2006 threatened food security in Yemen like other less developed countries, saying that the Yemeni government worked hard to reduce impact of the food price rises.
The premier said that the government tried to supply local markets with the basic food materials as well as increased salary of the government workers up to 20 percent.
Mujawar said that the government drew plans to encourage agricultural investment' especially in cultivation of wheat, adding that the government and the FAW have drawn a 2006 - 2010 short term plan and 2006-2015 mid term plan to realize food security in the country.
He concluded his speech by wishing success for the summit, hoping summit would come out with results that insure right of less developed country to get food.
The three day summit, organized by the Rome-based UN Food and Agriculture Organization, follows massive food price rises over the past three years.
In the opening session of the summit, the UN secretary General Ban Ki-moon called for a huge rise in food production.
The UN secretary general said food output had to rise 50 percent by 2030 to meet rising demand.
"We have a historic opportunity to revitalize agriculture," Ban told some 50 heads of state and government, gathered in the summit. "I call on you to take bold and urgent steps to address the root causes of this global food crisis," he said.
Saba