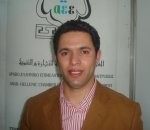 Almotamar.net
- The Arab-Greek Chamber of Trade and Development organises the 2nd Arab –Greek Economic Forum in the Greek capital Athens on 19-20 November 208. It is to be under auspices of the ministries of foreign affairs and development and the general federation of chambers of commerce, industry, agriculture of the participant Arab countries.
That was stated to almotamar.net on Thursday by the Secretary General of the Arab-Greek Chamber of Commerce and Development Mohammed Izzudin al-Hazimi who is currently in Sana'a to represent the Chamber at the 4th Sana'a International Fair. He pointed out that the objective of the forum is to study the present reality and future horizons in the economic relations in the Arab world and Greece and to be acquainted with commercial and investment opportunities as well as tourist one available for both sides.
The objective of the forum is also to attract investors and capitals from both sides and to encourage joint investment. Al-Hazimi also made it clear that the Arab-Greek Chamber has extended an official invitation to Yemen to take part in the forum. The invitation was extended to Investment Authority, the Chamber of Commerce and Industry in the capital , the Higher Council for Development of Yemeni Exports and Yemeni businessmen.
He said Yemen's participation in the forum would form an opportunity for Yemen to promote itself worldwide and to open for it future horizons in attraction of world capital for investment in Yemen.