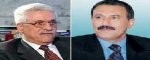 Almotamar.net
- President Ali Abdullah Saleh and visiting Palestinian President Mahmoud Abbas (Abu Mazin) in Sana'a Wednesday the means of activating mechanisms of the Yemeni initiative aimed to put an end to the Palestinian internal division and realisation of the comprehensive national reconciliation between Fatah and Hamas movements.
The e Palestinian ambassador to Sana'a Dr Ahmed al-Deek has said today the visit of President Abbas to Yemen comes as part of the confirmation of his sincere relationship with President Ali Abdullah Saleh. He added that Abu Mazin with give a briefing to president Saleh on the most important developments in the Palestinian issue especially the issues related to Palestinian-Israeli negotiations and the Yemeni –Palestinian coordination on beginning of Palestinian-Palestinian dialogue based on the Yemeni initiative , particularly following the initiative taken by president Abu Mazin in which he clearly adopted the Yemeni initiative.
The ambassador added that Abu Mazin has called on all Palestinian parties to commit to it and implementing it especially after the Yemeni initiative has received a full Palestinian support and Arab and international support.
Ambassador al-Deek indicated that the two presidents will also discuss the many concerns from which the Arab and Islamic nations are suffering and international current issues.