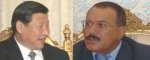 Almotamar.net
- President Ali Abdullah Saleh on Wednesday emphasized on expansion of and enhancement of Yemen and China cooperation in the manner realizing their common interests. In his meeting today with the visiting Chinese Vice President XI Jinping and his accompanying delegation, President Saeleh made it clear that Chinese investment in Yemen would be received with all care and facilities for achieving the common interests of the Yemeni and Chinese peoples.
The president praised the Yemeni Chinese relations, describing them as relations of friendship and cooperation. President Saleh renewed his welcoming of the Chinese investments in Yemen in industrial and power-generation or textile and weaving as well as other areas, calling the attention to availability of many opportunities and fields that would enhance economic and trade cooperation including the establishment of an industrial zone for the Chinese products in the Free Zone in Aden.
The visiting Chinese Vice President conveyed in the meeting greetings of the Chinese President to President Saleh and his wishes for good health and for the Yemeni people more progress and prosperity. The Chinese Vice President expressed his pleasure for visiting Yemen. He affirmed the visit would strengthen the relations of cooperation and friendship of the two countries and push them forward towards more areas, describing it as a visit of friendship and cooperation.
Mr Jinping confirmed his country's keenness on maintaining relations of comprehensive cooperation with Yemen at different levels, expressing his admiration of what Yemen has achieved of tangible development and evolvement in all areas. He affirmed that China would continue supporting Yemen and offering assistance in economic and development fields in the way realizing prosperity for it. He said China stands by Yemen and its unity, land and people and by whatever safeguards its security and stability.
He has also confirmed China's desire for developing the economic and trade cooperation in all fields, mainly in areas of energy, communications, and infrastructures , I addition to educational and health fields. He added that China would push for the Chinese partnership and encouragement of investment in Yemen.
The two sides have discussed relations of friendship and cooperation in economic, trade power-generation, textile, the Free Zone in Aden in addition to development of situations in the region.