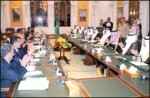 Almotamar.net
- Yemeni Planning and International Cooperation Undersecretary and his Saudi Trade and Transport counterpart opened in Sana'a Sunday the Saudi commercial attaché office. The event was attended by officials of the preparatory committee of the Yemeni-Saudi Coordination Council.
The Saudi Trade and Industry Undersecretary for External Trade Abdullah al-Hamoudi affirmed that opening a commercial attaché office in Yemen embodies the attention the two countries' leaderships pay for their commercial relations and their role in enhancing cooperation in many areas, among them cultural, scientific and commercial fields. He said among tasks of the office are the trade exchange and care for Saudi and Yemeni businessmen.
The Saudi ambassador to Yemen Ali Bin Mohammed al-Hamdan said the establishment of a commercial attaché office in Yemen is attributed to increase of trade exchange and flow of goods between Saudi Arabia and aye men.
On his part the Yemeni ambassador to Saudi Arabia Mohammed Ali Muhsin al-Ahwal deemed opening of the Saudi commercial attaché office is a good initiative.