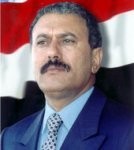 Almotamar.net
- The Yemeni President Ali Abdullah Saleh has on Monday reiterated Yemen's welcome to Japanese investments in Yemen at the top of which investments in energy and water desalination.
During his meeting in Sana'a on Monday with the visiting Japanese Vice-Minister for Foreign Affairs Osamu Uno, President Saleh praised the Japanese support for Yemen's process of development and democracy and the efforts for fighting terror. The President also lauded the steady development of Yemeni-Japanese relations for the common interests of the two friendly countries.
President Saleh also emphasized the importance of the role that Japan can undertake for pushing forward the process of peace in the region as well as its possible role in the meetings of the G-8 the Japanese capital Tokyo is to host.
The President asked the Japanese Vice-Minister for Foreign Affairs to convey his greetings to the Japanese Emperor Akihito and the Prime Minister Yasuo Fukuda and his wishes for good health and happiness and for the friendly Japanese people ever progress and prosperity.
On his part Mr Uno expressed his thanking to the President and for the efforts by the Yemeni Coast Guard for protecting the Japanese ship Takiyama when it came under piracy offshore Somalia. He has also praised Yemen's efforts in the field of fighting terror, affirming the support for the process development in Yemen and its efforts in combating terror and support for stability in the region and the care Yemen offers to refugees from the Horn of Africa region.
The meeting also discussed bilateral relations and cooperation, among them cooperation in the area of development, energy and water desalination for meeting needs of the capital Sana'a population and the city of Taiz.
The two sides also tackled regional developments and issues of common interest particularly developments in Palestine, Iraq and the Horn if Africa countries and the Japanese role in pushing forward the process of peace in the region.