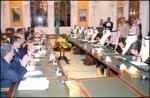 Almotamar.net
- Planning and International Cooperation Undersecretary Eng. Hisham Sharaf Abdullah revealed Monday that meetings of the preparatory committee for the session 19 of the Yemeni-Saudi Coordination Council resulted in setting up draft agreements on allocation of SR798 million and 500 thousand of the Saudi grant offered to Yemen at London donor conference , amounting to $one billion.
Me Abdullah explained that the amount of money would be used for building the Amran-Sana'a –Aden highway as well as agreement on a Saudi easy loan of SR400 million to Yemen to contribute to funding the same project. He added that the meeting agreed on preparing an agreement on regarding a Saudi grant for financing an energy project.
Mr Abdullah pointed out, in a statement to the Yemeni news agency Saba, that both the Yemeni and the Saudi sides expressed their satisfaction over the previous steps concerning the devotion of the $100 million Saudi contribution to financing the line of electricity exporting.
At the conclusion of its 2-day meetings the preparatory committee of the Yemeni-Saudi Coordination Council approved the minutes of its meetings that included the topics that were agreed on to be referred to meetings of the council's 19th session.