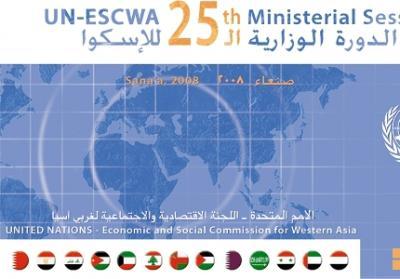 ESCWA briefs Arab ambassadors on results of Sana'a session
Almotamar.net - Executive Secretary of the Economic and Social Commission for Western Asia (ESCWA) Bader Omar al Defa left for the United Nations Headquarters in New York where he is scheduled to meet senior officials and take part in the annual session of the ESCWA.
It is expected that Al Defa would on Tuesday attend a dialogue of executive secretariats of the five UN regional commissions as part of the ESCWA session and to present a briefing under the theme of energy for sustainable development in the ESCWA area.
Al Defa will also take part in meetings of heads of the UN agencies of the executive commission for economic and social affairs to discuss follow-up of the 10th session of the UN conference for trade and development, in addition to preparation for Doha International Conference on funding development scheduled on 29 of next November to 29 December 2008.

Al Defa is also expected to meet the Arab ambassadors to the UN to inform them on results of the 25th Session of ESCWA held in Sana'a on 26-29 May 2008 and achievements of the commission since his assumption of his post in July 2007.

---

Parliament debates National Salvation Government's new program
On Wednesday, Parliament took up debate on the new National Salvation Government's program ahead of a confidence vote expected to be very soon.
The session led by parliament speaker Yahya al-Raiee with the attendance of the parliament members and members of the new cabinet, including prime minister Abdulaziz bin Habtour.
The program was presented by bin Habtour and his cabinet


Saudi aggression launch 24 air strikes on Saada, dropping cluster bombs
Saudi aggression warplanes launched 24 air strikes on several areas of Bakim district in Saada province over the past hours, dropping in some raids cluster bombs, a security official said on Monday.
The official said the strikes targeted Menabih, Thaban, Al Maghram and Al Zamah areas of the border district, killing a mother and her two daughters, as


6 Pakistani sailors killed in Saudi airstrike off Mokha, others still missing
Six Pakistani sailors were killed overnight when American-Saudi aggression fighter jets hit directly their boat off the coast of Mokha in Taiz province, an official said on Monday.
The official said the boat was carrying 12 Pakistani nationals fishing on the Red Sea when it was air attacked, killing six Pakistani fishermen while the others were still missing.