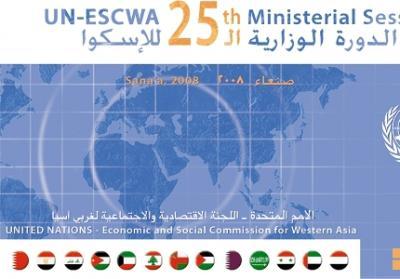 ESCWA briefs Arab ambassadors on results of Sana'a session
Almotamar.net - Executive Secretary of the Economic and Social Commission for Western Asia (ESCWA) Bader Omar al Defa left for the United Nations Headquarters in New York where he is scheduled to meet senior officials and take part in the annual session of the ESCWA.
It is expected that Al Defa would on Tuesday attend a dialogue of executive secretariats of the five UN regional commissions as part of the ESCWA session and to present a briefing under the theme of energy for sustainable development in the ESCWA area.
Al Defa will also take part in meetings of heads of the UN agencies of the executive commission for economic and social affairs to discuss follow-up of the 10th session of the UN conference for trade and development, in addition to preparation for Doha International Conference on funding development scheduled on 29 of next November to 29 December 2008.

Al Defa is also expected to meet the Arab ambassadors to the UN to inform them on results of the 25th Session of ESCWA held in Sana'a on 26-29 May 2008 and achievements of the commission since his assumption of his post in July 2007.

---

President Hadi attends security forces graduation
President Abdo Rabbo Mansour Hadi attended on Wednesday a celebration marking the conclusion of advanced and specialized security courses and the graduation of several batches of the Special Security Forces from specialized training courses.