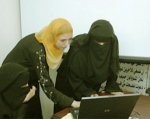 Almotamar.net
- Yemeni Businesswomen Council (YBC) is preparing in the next period to open new branches in Aden, Shabwa and Ibb governorates. The YBC move comes as part of its plan for expansion. The Council also seeks to open new branches in Taiz, Hadramout and Hudeida.
On the other hand the YBC is preparing to hold a workshop to review its accomplishments sin its establishment. The Council has so far achieved many projects pertaining businesswomen and other parties and provided a market for products of businesswomen and expanded their activities in addition to holding meetings with Arab businesswomen to inform them on Yemeni businesswomen as well as entering into joint projects.
The Council also gave prominence to Yemeni businesswomen abroad and that helped some Yemeni businesswomen become members of the Arab Investors Federation. The YBC was founded in February 2007.