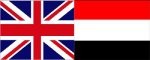 Almotamar.net
- A memorandum of understanding was signed in Sana'a Wednesday between the governments of Yemen and Britain for supporting reforms in judiciary and police at a total cost of $14 million.
According to the agreement the United Kingdom would offer a $14 million financing support over five years for efforts of the Yemeni government aimed at strengthening judiciary reforms , especially commercial judiciary, support for institutional building, building up capacities in the area of judiciary through enhancing capabilities of the Higher Judiciary Institute in addition to enhancement of Yemen's efforts in combating terror , qualification of Cost Guard and support of the military language.
The agreement was signed for the Yemeni side by Deputy Premier for Economic Affairs, the Minister of Planning and International Cooperation Abdulkarim Ismael al-Arhabi, the Minister of Justice Dr Ali Ghazi al-Aghbari and the Interior Deputy Minister. For the British side the agreement was signed by the British ambassador to Yemen Tim Torlot.