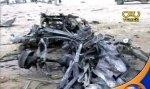 Almotamar.net
- One soldier has met martyrdom and 18 other persons got wounded, including 6 women in a terrorist attack happened in Hadramout governorate on Friday.
A security source in the governorate said Friday that a camp for the Central Security has come under a terrorist attack with a car bomb at 6 am today causing the killing of one soldier and wounding 18 other persons, among them six women. The source added the incident the criminal act has also caused damage to some parts of the camp and a number of nearby citizens' houses.
The source accused terrorist extremist elements, hiding behind religion, to be behind the incident, according to preliminary information.
The source also condemned that cowardice incident that targeted lives of the innocent and to destabilize public security and peace, affirming that the perpetrators would be hunted down and punished.