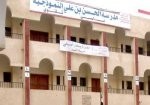 Almotamar.net
- Yemen Minister of Education Abdulssallam al-Jawfi discussed in a meeting in Sana'a Sunday with a delegation of the British Department for International Development (DFID) aspects of educational cooperation between Yemen and the Department.
Minister al-Jawfi reviewed the efforts of the government in Yemen for raising the standard of the educational process and providing qualitative education contributing to improve outputs of education in the light of the strategy for primary and secondary education.
On her part the Director of DFID in Yemen Sara White affirmed the importance of cooperation aimed at the success of the programme of education. She announced a support for the project for development of secondary education with 20 million pounds sterling with the aim of improving outputs and coping with developments at the labour market.
At the end of the meeting al-Jawfi valued the DFID efforts and other British friends in supporting Yemen's tendencies for raising the level of the efficiency of education and the importance of benefiting from experiments and experiences the programme offers in this respect.