Socotra joining of world heritage puts heavy burdens on us: Al-Eryany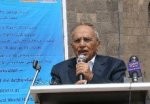 Almotamar.net
- The political advisor to the President, the chairman of the Fund for Socotra Protection Dr Abdulkarim al-Eryany demand Sunday the government to implement its decision to give Socotra Archipelago a distinguished administrative cadre that is in harmony with the strategy of preserving it and that cadre should be directly connected to the premiership.
In the ceremony organised by the ministry of waters and environment and the environment protection authority on the occasion of making Socotra Archipelago part of ten world heritage al-Eryany said that is the important and essential means with which "we can continue this great work and preserve this archipelago and to tell the world that we deserve this evaluation we have received in Yemen."
Al-Eryany deemed Socotra put on the list of world heritage as success for the ministry of waters and environment and environment protection authority that worked for conveying an image depicting the unique environment , biodiversity and animal species in the island .
He said the status the island has become entertaining enhances responsibility of the government and the civil society organisations for the preservation of the island environment and its biodiversity.
---

Army missile unites target mercenaries in Sourwah
The missile units of the army and popular force targeted on Friday gatherings of Saudi-paid mercenaries in Sourwah district of Marib province, a military official said.
Dozens of mercenaries were killed and wounded, Including Colonel Saleh Al-Kahli Al-Bukhaiti, commander of a battalion of mercenaries with a number of his companions, the official added.


Mercenaries launch artillery attacks on citizens' houses in Serwah
The Saudi-paid mercenaries launched on Friday intensively artillery and missile attacks on houses and farms of citizens in Serwah district of Mareb province.
A local official said that and artillery bombardment of the mercenaries targeted the areas of the airport, al-Haglan, Wadi Nawa and Souk Serwah, and caused great damage to the houses and farms of citizens.


49 Yemeni civilians killed in 212 Saudi aggression airstrikes in six days
At least 49 civilians were killed, Including thirteen children and six women, and 16 others wounded including a woman and child in 212 airstrikes launched by US-backed Saudi aggression warplanes on several Yemeni provinces over the past six days, officials and residents said.
In Sanaa province, the aggression warplanes launched 55 air strikes on the districts of Nehm, Hamdan, Sanhan, Belad Alroos.