Socotra joining of world heritage puts heavy burdens on us: Al-Eryany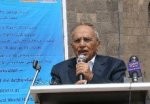 Almotamar.net
- The political advisor to the President, the chairman of the Fund for Socotra Protection Dr Abdulkarim al-Eryany demand Sunday the government to implement its decision to give Socotra Archipelago a distinguished administrative cadre that is in harmony with the strategy of preserving it and that cadre should be directly connected to the premiership.
In the ceremony organised by the ministry of waters and environment and the environment protection authority on the occasion of making Socotra Archipelago part of ten world heritage al-Eryany said that is the important and essential means with which "we can continue this great work and preserve this archipelago and to tell the world that we deserve this evaluation we have received in Yemen."
Al-Eryany deemed Socotra put on the list of world heritage as success for the ministry of waters and environment and environment protection authority that worked for conveying an image depicting the unique environment , biodiversity and animal species in the island .
He said the status the island has become entertaining enhances responsibility of the government and the civil society organisations for the preservation of the island environment and its biodiversity.
---

President chairs meeting of Defense Ministry's leadership
President of the Supreme Political Council Saleh Al-Sammad chaired an extended meeting here at the Defence Ministry headquarters with Acting Defense Minister Hussein Khiran and Deputy Chief of the General Staff, Maj. Gen. Zakaria al-Shami.
The meeting took place on Sunday at the presence of the Deputy of the Supreme of Political Council Kasim Labouza and Head of the Military and Security Committee, Maj. Gen. Mohammed Abdullah al-Kawsi.


Saudi aggression planes launch 9 air strikes on Saada
Saudi aggression fighter jets waged nine air strikes on Saada province overnight, a security official said on Monday.
The first raid targeted Ghamer area in Razah district and the other strike dropped cluster bombs on Takhiya area of Bakim district, injuring a citizen


Saudi aggression fighter jets strike Marib
Saudi aggression warplanes launched an air raid on Serwah district of Marib province overnight, an official said on Monday.
Meanwhile, the Saudi-paid mercenaries fired artillery shells on residents` houses and farms in the same district, causing damage to citizens` properties and farmlands, the official added.


Saudi air strikes kill 6 family members, drop intl-banned cluster bombs
Six civilians were martyred after the Saudi aggression warplanes struck a citizen's farm in the northern province of Saada, a security official said on Monday.
The two strikes were carried out late on Sunday night on Bakim district, killing the six civilians from relative families and causing the crop of the farm to explode in a ball of flame.
Meanwhile, the official said that another air strike hit Takhiya area in the same


UN envoy arrives in Sana'a
The UN special envoy to Yemen Ismail Ould Cheikh Ahmed arrived on Sunday in Sana'a for a two-day visit.
In a statement to the media, Ahmed said that "I am currently visiting Sana'a following a long period since my last visit. The fact is that this period is a difficult one for the Yemeni people as painful and hard events took place during