Socotra joining of world heritage puts heavy burdens on us: Al-Eryany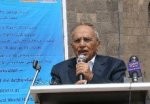 Almotamar.net
- The political advisor to the President, the chairman of the Fund for Socotra Protection Dr Abdulkarim al-Eryany demand Sunday the government to implement its decision to give Socotra Archipelago a distinguished administrative cadre that is in harmony with the strategy of preserving it and that cadre should be directly connected to the premiership.
In the ceremony organised by the ministry of waters and environment and the environment protection authority on the occasion of making Socotra Archipelago part of ten world heritage al-Eryany said that is the important and essential means with which "we can continue this great work and preserve this archipelago and to tell the world that we deserve this evaluation we have received in Yemen."
Al-Eryany deemed Socotra put on the list of world heritage as success for the ministry of waters and environment and environment protection authority that worked for conveying an image depicting the unique environment , biodiversity and animal species in the island .
He said the status the island has become entertaining enhances responsibility of the government and the civil society organisations for the preservation of the island environment and its biodiversity.
---

GPC celebrates of the 35th founding anniversary
Hundreds of thousands of Yemenis descended Thursday (Aug 24) on Sanaa in a major show to celebrate of the 35th anniversary of the General People's Congress (GPC) founding anniversary.
The rally marking 35 years since the founding the General People's Congress (GPC).
The streets of the capital, waving the blue flag of the GPC and carrying pictures of Saleh the leader of GPC.


Saudi aggression warplanes launch seven raids on Saada
Saudi aggression warplanes launched seven air strikes on Saada province overnight, an official said on Wednesday.
The targeted places were the regular road in Al-Sheikh area of Monabah district, Alhbrah area of Razeh district, the directorate of Al-Taher and Shada directorate.
The strikes severely damaged civilian properties, said the official.


Ballistic missile hits mercenaries in Nehm
The missile units of the army and popular forces fired a ballistic missile, Zilzal 3, on gatherings of Saudi-paid mercenaries in Nehm district of Sanaa province, a military official said on Wednesday.
The missile hit the targets accurately, causing large losses upon the mercenaries , the official added.


Maintaining internal unity to defeat enemy: Army spokesman
Armed forces' spokesman Brigadier General, Sharaf Luqman said the army and popular forces have provided the greatest sacrifices to defend the homeland against Saudi-led aggression forces, stressing on maintaining the internal unity.
In a press statement on Monday, Luqman said that the historical steadfastness and the cohesion of the Yemeni people represent the first defense line against the aggression states.