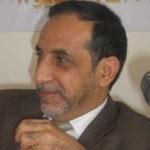 Almotamar.net
- The Yemeni Minister of Industry and Trade Dr Yahya al-Mutawakil on Tuesday called on political parties and the private sector to participate in confronting the crisis of food. He said the common responsibility with regard to the food crisis does not mean acquitting the state of its responsibility constitutionally and legally for its citizens but there is a social responsibility that all sides must take part in it; among those are civil society organisations and the political parties that achievement of food security must be one of their most prominent attentions.
While opening a symposium on the food crisis and the common responsibility towards it, organised by Future Current the minister added that the private sector has its significant role in alleviation of food crisis that Yemen is living as it is considered that economic growth, under the philosophy adopted by the state, stresses the role of the private sector in realisation of the goals of the society and its goals too. The minister considered the food crisis as global and was reflected on the national arena and revealed wars Yemen reality, among them panic of merchants and the unjustifiable rise of consumption rates among the citizens.
Dr al-Mutawakil said the government, with its capabilities and available resources, tried as much as possible to reconsider its economic policy especially in relation to its trade and agricultural policy in addition to defining the priorities and learning the circumstances that can affect the food security and giving it the priority.