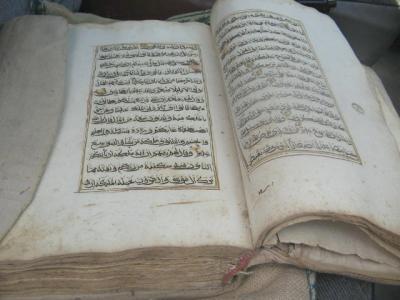 Attempted smuggle of 40 manuscripts, foiled
Almotamar.net - Competent authorities at Sana'a International airport have on Sunday foiled an attempt to smuggle 38 rare Yemeni historical manuscripts spotted in possession of a Qatari lady prior to her departure of Sana'a sir space. The event happened to coincide with the second day of the 1st Exhibition for photos of rare Qur'an manuscripts organised by the Ministry of Culture in Yemen to inform researches and those interested people in the importance of treasures relating of the valuable and rare manuscripts.

Security men at Sana'a International Airport have stopped the Qatari lady and found with her, in addition to the manuscripts. 4 clay vessels and a dagger whose date belongs to Islamic ages.

Yemeni mews age3ncy quieted director of antiquities office at the airport Ali al-Muhsini as saying the seized objects include Islamic historical manuscripts of different sizes and most of them have decorated leather covers and some of them are gilded in addition to manuscripts written by hand by a big number of Yemeni scholars.

Director of antiquities office at the airport praised the efforts of the airport security authorities, stressing t the same time the importance of enlightening the people and informing them on the importance of those manuscripts as being heritage of the Yemeni civilisation and history and must be preserves and protected and to inform concerned authorities on any smuggling operation or selling of such manuscripts as it is a crime punishable by the law.

On his part the director of the airport security authority said the woman was sent to prosecution of antiquities for completion interrogation with her after the legal preliminary investigations with her usually dome at the Sana'a airport. According to news by the Yemeni news agency on results of preliminary investigations it mentioned that the Qatari lady said she had been gathering manuscripts since 2006 and that she had bought them for $8 thousand.

---

Yemen to partake in FMs' meetings of OIC member countries
Yemen is to partake the 40th session of Foreign Ministers Council of the Member States to the Organization of Islamic Cooperation (OIC), which will be held during the period ( December 9- 11, 2013) in the Guinean capital, Conakry.


Ashton condemns defense ministry attack
EU High Representative Catherine Ashton strongly condemned on Friday the attack on the Defense Ministry and hospital that occurred Thursday morning, causing numerous deaths and injuries.


GPC Condemns the Terrorist Attack in al-Ordi
General people Congress (GPC) condemned the terrorist attack that targeted the Ministry of Defense hospital and led to the deaths of dozens of martyrs and wounded, including foreigners.


The war on al-Qaeda has achieved tangible results: Al-Shamy
Head of the Information Office at the General People's Congress (GPC) Tareq al-Shamy has affirmed on Thursday that the Yemen war on terror is an open one and that war has achieved successes through defeating and hitting the elements of al-Qaeda organisation in Luder and al-Houta. He pointed out that the incident of attacking a car belonging to the British embassy was an attempt by al-Qaeda to send a message that it was still present and able to do anything