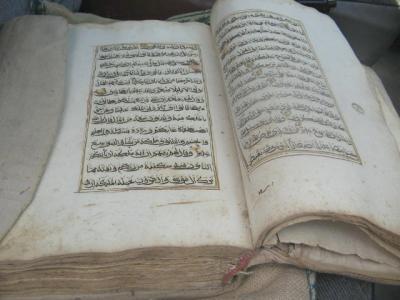 Attempted smuggle of 40 manuscripts, foiled
Almotamar.net - Competent authorities at Sana'a International airport have on Sunday foiled an attempt to smuggle 38 rare Yemeni historical manuscripts spotted in possession of a Qatari lady prior to her departure of Sana'a sir space. The event happened to coincide with the second day of the 1st Exhibition for photos of rare Qur'an manuscripts organised by the Ministry of Culture in Yemen to inform researches and those interested people in the importance of treasures relating of the valuable and rare manuscripts.

Security men at Sana'a International Airport have stopped the Qatari lady and found with her, in addition to the manuscripts. 4 clay vessels and a dagger whose date belongs to Islamic ages.

Yemeni mews age3ncy quieted director of antiquities office at the airport Ali al-Muhsini as saying the seized objects include Islamic historical manuscripts of different sizes and most of them have decorated leather covers and some of them are gilded in addition to manuscripts written by hand by a big number of Yemeni scholars.

Director of antiquities office at the airport praised the efforts of the airport security authorities, stressing t the same time the importance of enlightening the people and informing them on the importance of those manuscripts as being heritage of the Yemeni civilisation and history and must be preserves and protected and to inform concerned authorities on any smuggling operation or selling of such manuscripts as it is a crime punishable by the law.

On his part the director of the airport security authority said the woman was sent to prosecution of antiquities for completion interrogation with her after the legal preliminary investigations with her usually dome at the Sana'a airport. According to news by the Yemeni news agency on results of preliminary investigations it mentioned that the Qatari lady said she had been gathering manuscripts since 2006 and that she had bought them for $8 thousand.

---

OIC appeals to support Yemen with medical aid
The Organization of Islamic Cooperation (OIC) has appealed member states and civil society organizations (CSOs) to provide humanitarian aid to the Yemeni people, especially medical supplies to cope with the big number of injured as a result of the military aggression.
The Secretary General of the OIC Iyad Madani said, in a statement issued Monday, that the OIC is holding consultations with several civil society organizations that have consultative status in the organization to provide food and medical and humanitarian assistance to the Yemeni people.


Yemen: Zeid calls for investigations into civilian casualties
UN High Commissioner for Human Rights Zeid Ra'ad Al Hussein on Tuesday reminded all sides to the conflict in Yemen to ensure that attacks resulting in civilian casualties are promptly investigated and that international human rights and international humanitarian law are scrupulously respected during the conduct of hostilities in the country.
In addition to hundreds of fighters, at least 364 civilians are reported to have lost their lives since March 26, including at least 84 children and 25 women. Another 681 civilians – possibly more – have been injured. Dozens of public buildings, including hospitals, schools, airports and mosques have been destroyed in airstrikes, through shelling and other attacks.


Pakistan calls on resolving Yemen's crisis through dialogue
Pakistani Prime Minister Nawaz Sharif has renewed his country's desire to resolve Yemen's crisis in Yemen through talks, revealing that his government urges Iran to play a role in bringing various Yemeni parties to the dialogue.
In his statement issued Monday, Sharif said that his country wants to resolve Yemen crisis through talks.
He added that Islamabad urged Tehran to play a role to bring conflicting parties in Yemen to the dialogue table, the official news agency of Pakistan quoted the Prime Minister as saying in a statement.


Ban Ki-Moon Urges Return To Political Talks In Yemen
The UN secretary-general has said that two weeks of Saudi-led air strikes against Yemen, "have turned an internal political crisis into a violent conflict that risks deep and long-lasting regional repercussions".
Ban Ki-moon on Thursday told reporters that he was urging all countries in the region to go beyond national priorities and help the Yemeni people, saying "the last thing the region and our world need is more of the chaos and crimes we have seen in Libya and Syria".


UNICEF, ICRC medical aid landed in Sana'a
Two planeloads of medical aid landed in Sana'a on Friday.
The planes were sent by the United Nations Children's Fund (UNICEF) and the International Committee of the Red Cross (ICRC).
The UNICEF plane contained almost 37 tons of medical aid, which "will be delivered to the Ministry of Public Health and Population, to distribute them to hospitals in the needed areas," said Mohammed al-Asadi, the communication officer at UNICEF.


HRW requests neutral investigations with Arab coalition forces against Yemen
The Human Rights Watch (HRW) demanded on Thursday to hold neutral investigations with all members in the Arab coalition forces attacking Yemen led by Saudi Arabia to find out if there are violations of war laws and to take the necessary procedures.
In its press release, the HRW expressed its deep concerns over war laws violations, noting that the airstrikes led to the killing of at least 29 civilians and injured 41 others, including 14 children and 11 women in Al-Mazraq refugees camp in Hajjah governorate in addition to medical facilities, a local market and a bridge.


Iraq, Iran calls for halting military aggression on Yemen
Iraq and Iran confirmed on Thursday the importance of halting military operations on Yemen, expressing their concern on the consequences of the Saudi aggression on Yemen.
The statement was made during a meeting by Iranian Deputy Foreign Minister Morteza Sarmadi with the Speaker of the Iraqi Parliament Salim al-Jabouri in the Iraqi capital, Baghdad, according to Fars news agency.


EU calls conflicting parties to protect civilians
The European Union (EU) has called the conflicting parties in Yemen to avoid targeting civilians and infrastructure in the country.
In joint statements made by the High Representative of the European Union for Foreign Affairs and Security Policy and Vice-President of the European Commission Federica Mogherini and the European Commissioner for Humanitarian Aid and Crisis Management Christos Stylianides, they condemned targeting hospitals and destruction of homes, schools and basic infrastructure, saying such acts are unacceptable