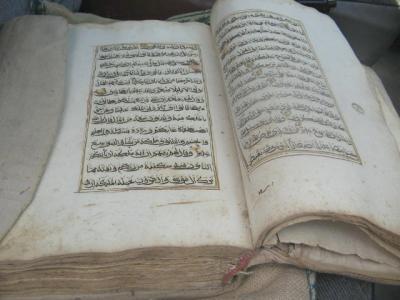 Attempted smuggle of 40 manuscripts, foiled
Almotamar.net - Competent authorities at Sana'a International airport have on Sunday foiled an attempt to smuggle 38 rare Yemeni historical manuscripts spotted in possession of a Qatari lady prior to her departure of Sana'a sir space. The event happened to coincide with the second day of the 1st Exhibition for photos of rare Qur'an manuscripts organised by the Ministry of Culture in Yemen to inform researches and those interested people in the importance of treasures relating of the valuable and rare manuscripts.

Security men at Sana'a International Airport have stopped the Qatari lady and found with her, in addition to the manuscripts. 4 clay vessels and a dagger whose date belongs to Islamic ages.

Yemeni mews age3ncy quieted director of antiquities office at the airport Ali al-Muhsini as saying the seized objects include Islamic historical manuscripts of different sizes and most of them have decorated leather covers and some of them are gilded in addition to manuscripts written by hand by a big number of Yemeni scholars.

Director of antiquities office at the airport praised the efforts of the airport security authorities, stressing t the same time the importance of enlightening the people and informing them on the importance of those manuscripts as being heritage of the Yemeni civilisation and history and must be preserves and protected and to inform concerned authorities on any smuggling operation or selling of such manuscripts as it is a crime punishable by the law.

On his part the director of the airport security authority said the woman was sent to prosecution of antiquities for completion interrogation with her after the legal preliminary investigations with her usually dome at the Sana'a airport. According to news by the Yemeni news agency on results of preliminary investigations it mentioned that the Qatari lady said she had been gathering manuscripts since 2006 and that she had bought them for $8 thousand.

---

President visits Arhab, offers condolences to families of funeral house
President of the Supreme Political Council Saleh al-Sammad visited on Thursday Arhab district in Sana'a governorate, offering condolences to victims of the massacre committed by Saudi criminal aggression warplanes on a the house in the district.
Saudi aggression warplanes pounded on Wednesday afternoon a funeral house in Arhab district of Sana'a province, killing eight women, including


Saudi warplanes kills three civilians in Sa'ada
Three citizens were killed in a Saudi airstrike in Baqam district of Sa'ada province overnight, a local official said on Tuesday.
The Saudi fighter jets struck their car in al-Demnah area, wounding four other people.
The airstrike hit Al Qarrad area, causing heavy damage to citizens' properties and farms.
Meanwhile, Saudi aggression intensively shelled Razah district of the same province, the official added.


Two citizens killed in Saudi airstrikes on Hodaida
Two people were killed in Saudi airstrikes on the telecommunications corporation office in Hodaida province overnight, an official said on Tuesday.
At least six people were wounded in the strikes that hit the office twice. The building was damaged seriously and several cars were crashed, the official added.


Saudi warplanes target Yemeni civilians in Mokha: UN Human Rights
Extremely worrying reports suggest that civilians and civilian objects have been targeted, in violation of international humanitarian law and international human rights law, over the past two weeks, in the southwestern port of Al Mokha in Taiz Governorate in Yemen, the United Nations human rights agency warned.
While the intense fighting – both ground fighting and airstrikes – made it impossible for UN Human Rights Office field monitors to access the area and


Fisherman killed in Saudi aggression airstrikes on Salif port
Saudi aggression warplanes launched an airstrike on al-Salif port off the Red sea in Hodaida province, killing one fisher man, an official said on Monday.
The Saudi aggression warplanes also launched five airstrikes on al-Dohaimh Island of Hodaida province, causing serious damage to fishermens' boats, the official added.