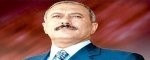 almotamar.net
- President Ali Abdullah Saleh on Thursday opened the factory of the Yemeni company for manufacturing paper bags in Hudeida governorate at a cost of $10 million.
In the guest book at factory the President wrote that the factory is to be added to the factories that establish an industrial base contributing to the process of development and providing job opportunities, confirming encouragement of the state to build productive factories in the way serving goals of development.
The President earlier toured departments of the factory and got acquainted with the process of production of paper bags used for cement packaging. The factory production capacity is 75 million bags per year provided to cement factories in Yemen. It is planned also to add another production line to the factory to cover needs of the local market and exportation.
President Saleh also visited Al-Saleh housing project for persons of limited income which is currently under supply in preparation for its implementation. The housing project includes the building of 628 residential units at a cost amounting to 2.5 billion YR.