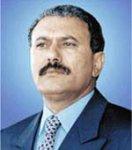 Almotamar.net, Saba
- President Ali Abdullah Saleh returned on Tuesday to Sana'a from a Kuwait economic summit that has been attended by all Arab leaders. President Saleh also took part in a close-door session held by the Arab leaders Monday evening with the goal to agree an Arab united position to serve the Arab joint action.
President Saleh hailed the Sharm El Sheikh, Doha and Riyadh conferences which paved the way for the successful Kuwait summit.
In his speech at the closed-door meeting of the Kuwait summit President Saleh put forward the question on what would be done if Israel did not commit to resolutions of the international legitimacy issued by the UN Security council and the resolutions that would be issued this sum. He said," Many of the brothers talked but are we going to stop at denunciation and condemnation of what the Zionist entity has perpetrated against the children, elderly people and women in Gaza, are we going to activate the agreement of Arab Joint Defence, which is the least that can be done?"
At the summit, President Saleh urged the Arab and Muslim nations to employ their potentials to face the culture of hatred and war of Israel, saying such a state just needs to be dealt with in a well-coordinated manner.
President Sale also urged the Arab leaders to employ their relations with world countries in service of Arab nation.
Furthermore, he called on the UN Security Council to adopt effective resolutions that can ensure a full-scale withdrawal of Israeli troops from the Gaza strip as well as opening all crossings with the strip.
He called for bringing Israeli criminals to justice, criticizing the double standard in the region.
Saba