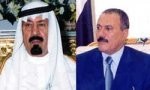 Almotamar.net, Saba
- President Ali Abdullah Saleh telephoned on Friday the King of Saudi Arabia Abdullah bin Abdul-Aziz Al Saud to talk on the brotherly relations and areas of joint cooperation between the two countries and ways of strengthening them.
In the conversation, the two Arab leaders exchanged views about Arab and international issues of common concern as well as the latest developments in the Gaza Strip in the light of the outcomes of the Arab summit held recently in Kuwait.
President Saleh and King Abdullah affirmed the importance of coordinating all Arab countries' efforts in order to achieve a Palestinian reconciliation and strengthen the unity of Palestinian factions as well as the promotion of Arab solidarity for confronting all challenges.
President Saleh valued the Saudi King's efforts to end differences among Arab countries, achieve the Arab reconciliation and promote the Arab solidarity during activities of the Kuwait summit.
Saleh called on all Arab states to create a new phase of the Arab-Arab relations and strengthen the Arab reconciliation and solidarity in order to activate and serve the joint Arab interests and goals, particularly in the light of the current circumstances and challenges facing the Arab nation.
Saba