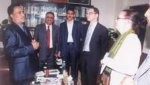 Almotamar.net
-
. The official in charge of elections at the European Commission EU Foreign Relations Department Patrick Dupont has denied Monday that the team has proposed postponing the upcoming parliamentary elections in Yemen scheduled on 27 next April.
Dupont expressed his regret for the wrong news reported by some party media tools in a wrong way attributed to the European Union EU team.
Mr Dupont made it clear that during the meeting held Sunday at Al-Thawra Press Establishment, that included the EU team and leaderships of the three press establishment namely, Al-Thawra, 14 October and Al-Jumhuriya that the team did not mention any suggestion concerning the postponement of the elections or not to participate in observation of them. He said what has been published by some partisan media instruments is groundless.
The European delegation has, meanwhile, praised the forward steps and development achieved by the democratic experiment in Yemen, expressing its hope that the democratic process in Yemen would continue at this momentum.